2019 Farmers Markets in Door County
Baileys Harbor (Baileys Harbor Town Hall)
Sundays, 9 a.m.–1 p.m. | May 19–September 29
More Information >>
Egg Harbor (Harbor View Park)
Fridays, 8 a.m.–12 p.m. | May 24–October 25
More Information >>
Fish Creek (The Settlement Shops)
Wednesdays, 9:30 a.m.–1:30 p.m. or sellout | June 5–October 16
More Information >>
Jacksonport (Lakeside Park)
Tuesdays, 9 a.m.–1 p.m. | May 21–October 15 (weather dependent)
More Information >>
Sister Bay (Corner of the Past Museum)
Saturdays, 8 a.m.–12 p.m. | May 25–October 5
More Information >>
Sturgeon Bay (Market Square)
Saturdays, 8:30 a.m.–12 p.m. | June 1–October 26
More Information >>
---
---
Organic Grocery Stores & Markets in
Door County: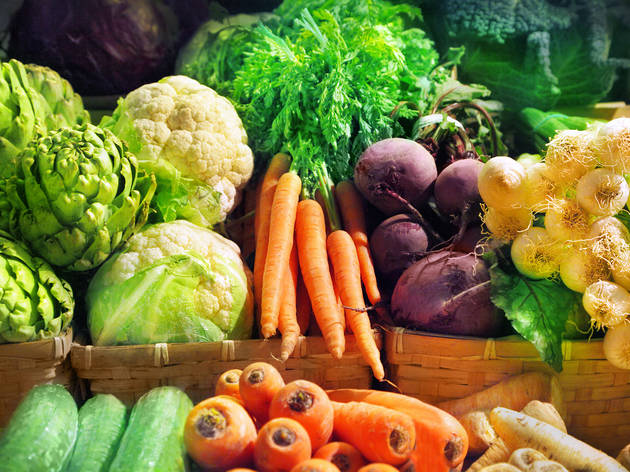 ---
---
The Healthy Way Market – 920-746-4103
142 S. 3rd Ave, Sturgeon Bay, Wisconsin, WI 54235
Your source for whole food grocery, produce, vitamins, supplements, essential oils, and superfood choices that support a healthy lifestyle.
---
Greens N Grains Natural Foods Market & Café – 920.868.9999
7821 WI-42, Egg Harbor, WI 54209
Healthy Alternative Grocery and Dining in Door County
---
Flying Tractor Farm – 920.243.4200
5324 Whitefish Bay Road, Sturgeon Bay, WI 54235
Selling sustainably raised meats, produce, honey and eggs.
Business Hours: Sunrise -Sundown
---
Waseda Farms Country Store – 920.839.2222
7281 Logerquist Road, Baileys Harbor, WI 54202
Certified Organic farm located in Door County, WI. Humanely and Sustainably raised Organic Beef, Pork, and Poultry, and 2 acres of produce.
Restaurants Serving Waseda Farms Meat (updated May 2019):
Bluefront Cafe, Sturgeon Bay
Crate, Sturgeon Bay
The Inn At Cedar Crossing, Sturgeon Bay
Heirloom Cafe and Provisions, 

Baileys Harbor

Parador, Egg Harbor
Blue Horse Cafe, Fish Creek
Wild Tomato, Fish Creek
Chef's Hat Cafe, Ephraim
Trixie's, Ephraim
Grasse's Grill, Sister Bay
Roots Inn & Kitchen, Sister Bay
Wickman House, Ellison Bay
Le Petit Bistro at Fragrant Isle, Washington Island
Hotel Washington, Washington Island
Markets Selling Waseda Farms Meat & Eggs:
---
---
2019 Door County CSA's & Organic Farmers:
---
CSA stands for Community Supported Agriculture. Buying into a CSA provides the farmer with funds to purchase seeds, equipment, labor and supplies to start the season. For this investment the grower will provide the client with the freshest tasting high quality fruits and vegetables.
---
Our passion is daily commitment and care in the welfare of our animals, sustainability in the food our family and friends eat, and the soil we raise it in.
Address: 9668 State Hwy 57, Baileys Harbor, WI 54202
Phone: (920) 660-2494
---
---
We are an off the grid eco farm in Door County growing fresh produce.
Email: coldclimatefarms@gmail.com
---
Ellison Bay Farm Fresh  Anna Knapp
Ellison Bay Farm Fresh provides locally grown produce, eggs and farm-raised chickens through a CSA season.
Address: 11877 Grasse Ln, Ellison Bay
Phone: (920) 493-2649
---
Emerald Acres Farm David and Valerie Boyarski
Small sustainable farm offering fresh produce, free-range eggs, pastured meat chickens, Nigerian Dwarf dairy goats, mixed breed dairy goats and goat meat.
Address: 6424 Emerald Dr. Sturgeon Bay, WI 54235
E-mail: emeraldacresfarmofdc@gmail.com  
Phone: (920) 818-0513 (Alt: 920-493-5682)
---
Flying Tractor Farm Ron Schweigert
Flying Tractor Farm is located in beautiful Sturgeon Bay, WI. We offer organic vegetables, meats and eggs to our neighbors and customers. You're welcome to stop by the farm and explore our greenhouses. You can take a tour of our fields, meet our farm animals and purchase fresh produce from our self serve farm stand. Farm Raised. Farm Good.
Address: 5324 Whitefish Bay Road, Sturgeon Bay, WI 54235
Phone:

 920-243-4200

Business Hours:

 Sunrise -Sundown
---
Hidden Acres Farm and Beach Road Community Gardens is about building a community around local, healthy food.
---
We have pick your own and ready picked strawberries. We also offer sweet corn, green beans, peas, tomatoes, raspberries, apples, and much more!!
Address: 8678 County Road C, Sturgeon Bay, WI 54235
Email: info@malvitzbayfarms.com.
Phone: (920) 824-5625
---
We value sustainability, nutritional education, and building family with every customer. Flowers, Herbs, Produce, CSA Shares, Farm Stand, Wreaths, Wedding Flowers

Address: 4724 Mathey Road, 

Sturgeon Bay

,

WI

54235

Email: robbensnestfarm@yahoo.com

Phone: (920) 746-7713
---
CSA ~ FARM STAND ~ WHOLESALE
Community Supported Agriculture Farm
FRESH, LOCAL, NATURALLY GROWN
Address: 6418 Vignes Road Sturgeon Bay

,

WI

54235

Email: Growers@steepcreekfarm.com
Phone: (920) 743-9633
---
Naturally Raised Meats, CSA
Address: 2068 Brussels Rd.  Brussels,  WI  54204
Email:  gslardo@centurytel.net
Phone: (920) 495-0717
---